First, you need to configure and match the settings for your gradebook program. After logging into Naiku, click on your name at the top to get to your settings. Scroll down to the bottom to the Gradebook Export Settings section.

These settings affect how Naiku transfers scores and should be set to match your gradebook.
Name Sorting
Set the name ordering to match your electronic gradebook.
Hot Key
Choose whether or not you want to change the designated HotKey from the default setting of F8 by choosing another option from the HotKey drop-down menu.

Note: You might need to experiment to see which HotKeys are not in use. If you have trouble with the F8 key, simply change it to something else, like F7. Some teachers have reported that the F8 key makes the plugin GradeCam plugin become unresponsive on their computers. After switching to F7, it worked perfectly for them.

Mac Users: On some Mac keyboards you need to press the "fn" key while pressing the HotKey.
Return Key
(Optional) If your gradebook requires you to press "Tab" instead of "Enter" when switching students while inputting new scores, then you would need to change the "Return Key" setting.
Speed
(Optional) Depending on your gradebook, you might need to set the speed of transfer. Play around with a setting that works for you.
Missing Assignments
(Optional) You can choose to skip missing results (students who didn't take the test) or chose to enter a score of "0" for those who didn't take the test.
Transferring Scores
Now, with one button, you can transfer test scores from Naiku directly into your gradebook. When you're ready to transfer scores into your gradebook, go to the Class Results page in Naiku for the test that you want to transfer the scores. Part of this page is shown below.
​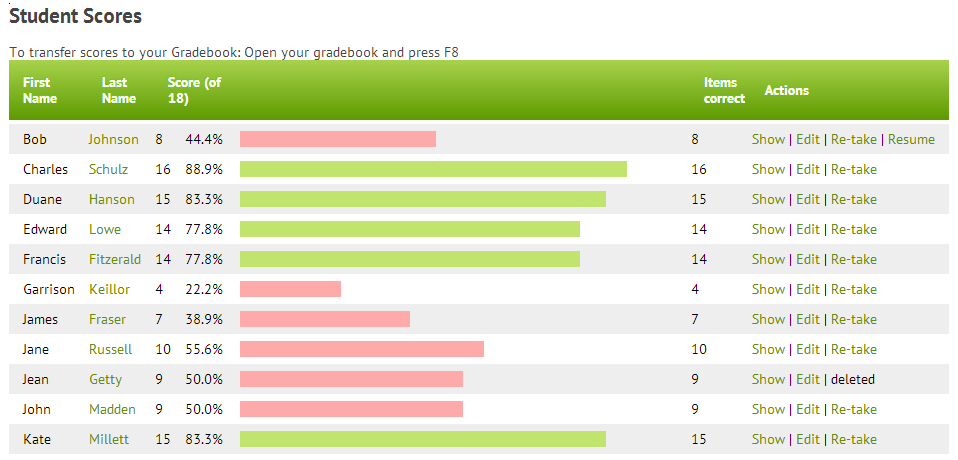 Open your gradebook in another tab on your browser. Note: Your gradebook may look different from the one shown below. In your gradebook, go to the assignment (i.e., test) that you want to transfer the scores from Naiku. Click on the very first cell in the column for that assessment. This should be the very first student (shown here sorted by last name) in the class.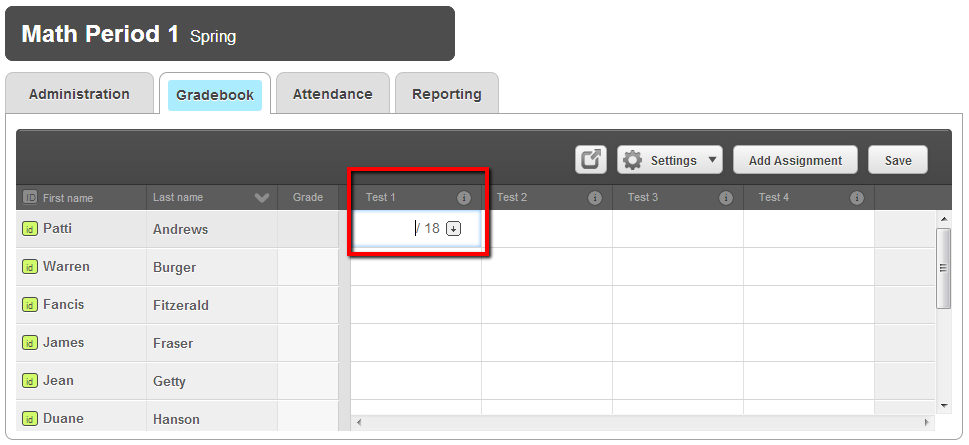 Press your Naiku HotKey (default is F8). This will transfer the scores from Naiku into your gradebook. That's it! Congratulations! You've just transferred your scores from Naiku into your gradebook.