One question we have had from teachers revolves around the idea of making a test more secure so that students are not able to take tests from home if they are absent or see a test before or after a class period if the test is still open. To help with this, Naiku has a feature that requires students to enter a code before they can take the test.
To activate requiring an access code for testing, go to the main (master) test and edit it. Click on Actions and choose to Edit the test.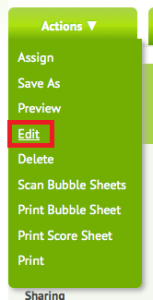 Then you will see this on the left side bar. Check "Access requires code".
Then assign this test to the classes as you normally would. When teachers are ready to give the test,click on the class and then click on the name of the test. They will see the access code on the left side. In the Sample Test below, the access code is "a530t".

Students
When students log in, they will click on the class that has that test. Then they should click on Take Test for the test that they want to start just like the normally do. Now, however, they will see a place to enter the access code. In this example, the code they need to enter is "a530t".